Personally we wanted to do the walk because we had over £500 given or pledged and we felt it would be good to get all the money raised to Animals Asia now to help their efforts with the Moon Bears. The postponed event will go ahead next Spring and you never know, we might do it again on the longer route!
We took Yodi on the walk, our Romanian ex-Street Dog brought over by Love Underdogs and the inspiration behind the Luv Dogz's cartoon character. I think he got a lot out of doing the walk too. He's still a little nervous of other people around him. He came across so many new sights and experiences including a field full of cows huddled around us and probably the first time Paul picked him up and shoved him over a tall stile as there was no way he could scrabble under the wire! Two things come to mind here. When I picked him up we thought we were getting a puppy that was going to grow into a medium-size dog and not the 'extra large dog' our vet has labelled him. And the other thing is THANK GOD WE DIDN'T TAKE A GREAT DANE WITH US!!!!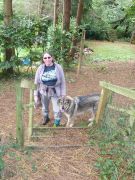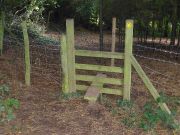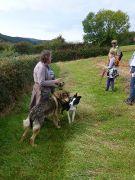 Luckily for us, it turned out to be a beautiful sunny day. Have to say Spaxton is a lovely village on the edge of the Quantocks. We walked through so many different scenic areas. I think having been shoved over the first stile Yodi got the idea and either scrabbled over himself or managed to squeeze through under the rails or wire of other stiles along the way! In fact, he became a dab hand at negotiating 'kissing gates' doing a nifty little curve of his body to get around the gate!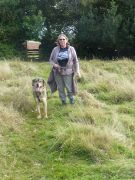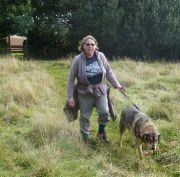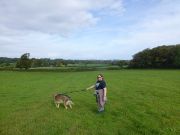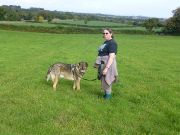 On we went, uphill and downhill, crossing wooded areas and fields and short stretches on the lane. Everything was fine until we got to the end of a grassy track that led us into a field of cows. They looked like heifers, young cows. Having been chased by a herd of cows with their calves I told Paul these cows would be fine. So Paul strode off across the field looking for a kissing gate in the hedge. He was soon worried when the cows approached us and started to surround us. He told me to run but I couldn't because poor Yodi was fixed on the spot growling at the cows literally a few feet away. I told Paul to get the camera out because it would make a great photo. He was shouting at me to run….so I turned around and yelled at the cows in my growling manner and they scarpered. Paul grabbed the camera but they were already trying to get away from scary Helen and Yodi!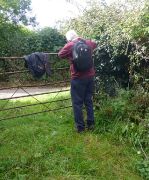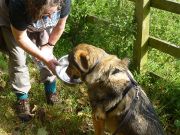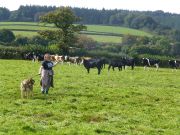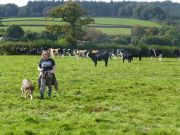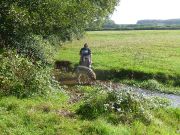 Then we got lost. I reckon we walked another mile just trying to get out of those fields!! I was getting tired and Yodi was flagging….but Paul said he could walk all day! Huh! We ended up in some woodland and eventually found the tree-lined track that seemed to go on and on and on…..when was it going to end??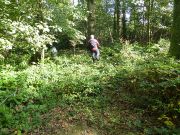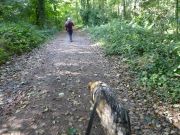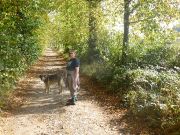 Then we walked the gallops and I was fading a bit! So was Yodi….he lagged behind and then got a new spurt of energy and we were so pleased to get back to Spaxton Village.  We reckoned we did about 7 miles so a fair jaunt. Yodi jumped straight in the van and sank into the dog quilts. I was stiffening up and the truth is I crashed out on the settee when I got home. But we would do it again for the Moon Bears. A huge thank you to the wonderful people who sponsored us!!!