Here at Luv Dogz Ltd, we believe that every dog has a right to a decent life away from hunger, cruelty, pain and neglect. The plight of Street Dogs in Romania and other East European countries has been an eye opener for many people. There have been some horrific examples of cruelty on the streets. The response is not to turn away because you feel helpless and you think there is nothing that can be done for these dogs. Helping one dog is better than doing nothing. You can change that dog's life around for the better and making a significant difference to one dog's life is better than making no difference to many dogs' lives.
There is a Charity in Romania called Asociatia Milionane de Prieteni (AMP) that has been rescuing Street Dogs for 20 years in Brasov. Now the hard work of their staff and the vision of Cristina Lapis and her husband are paying off. They have worked with the local Mayor to turn the Municipal Shelter in Brasov into a refuge and rehoming centre for the dogs that are brought in off the street. The town gets rid of the stray dog population and the dogs get the required veterinary attention and help to enable them to be rehomed to Romanians. Meanwhile they are educating the children in the schools and the local people how to care for companion animals. From their private shelter in Brasov they encourage the locals to bring their cats and dogs in to be neutered for a small donation. This has got to be the blueprint for all towns and cities in the world with a street dog problem.
In fact AMP have achieved a remarkable situation where the number of dogs being brought in off the streets is equalling the number of dogs being rehomed to local people. Hence the number of dogs requiring help is stabilising without the need to cull them.
http://www.ampbears.ro/en/news/2-news/313-229-dogs-have-found-loving-families
Love Underdogs is a registered Charity we support in the UK. They are in partnership with AMP and bring some dogs over from the AMP private shelter in Brasov to rehome in the UK. Oh yes there are lots of arguments for and against this but at the end of the day a small number of dogs from the millions of dogs in Eastern Europe and in countries across the world are being helped. They arrive in the UK vaccinated, microchipped, neutered and passported. They will never be bred from and cause any future problems. We have Yodi and he is a delightful pet dog to have around. He got a chance to escape the shelter and poor health by coming over with Love Underdogs to a better life with us. Unfortunately Yol, the puppy he paired up with in the shelter, still hasn't found his special home.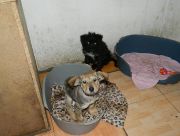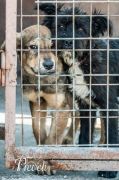 If you can give Yol a home or one of the other dogs requiring a home that are currently with Love Underdogs please contact them. All dogs deserve a chance and some of this Charity's dogs have had a harder life than many. They deserve that and we are sure you won't be disappointed. Love Underdogs are very thorough when they place dogs in new homes. Yodi has enriched our lives and been an inspiration. See what Yol or one of the other dogs Love Underdogs can offer could do for you!
http://www.loveunderdogs.org