This is what the Libearty Bear Sanctuary says about Dandy…..
"Dandy was 5 months old when the confiscation procedures began. He was difficult to confiscate. The "owner", a circus man living in a village called Pantelimon, didn't wanted to give up on him. He "loved" the bear-cub too much. But the marks on Dandy's body proved the contrary. The burns and cuts from his paws, his inadequate weight and his uncared fur showed he wasn't shown too much affection at all. Being so small and helpless, Dandy had no idea that he was getting prepared to be a famous full-time circus bear and a dancing bear in his free-time. The future didn't look too bright for him. Training for the future shows was no fun for him. The only happiness for him was a piece of bread or maybe a candy after a hard day of work consisting of walking and "dancing" on hot coals or broken glasses.
In July 2009, Dandy met the forest for the first time in his life. From that moment on, the bear cub knew his fate turned right and will have the best future."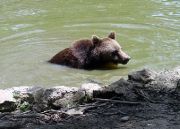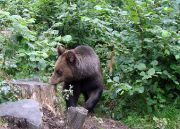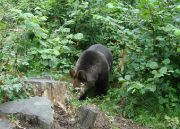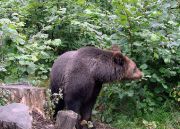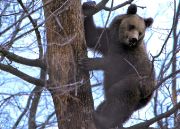 Anyone can adopt a Bear and support the Libearty Bear Sanctuary. At a minimum cost of 60 euros it's well within many peoples' budget.   http://www.ampbears.ro/en/adopt-a-bear
You can also get a bear fix by taking a 4 night break to Romania to visit the Bear Sanctuary and go Bear Tracking in the foothills of the breathtaking Carpathian Mountains with Untravelled Paths. This trip is well recommended by us and the tour company is excellent.  Don't forget to say hello to Dandy for us whilst you are there!
http://untravelledpaths.com/experience/brown-bear/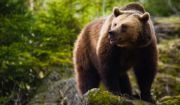 For those who are even more adventurous check out the World Society For The Protection of Animal's (WSPA) Romanian Bear Adventure 2014 in September. WSPA supports and funds the Libearty Bear Sanctuary as well as other Bear Sanctuaries around the world. They would love you to see the latest addition to the WSPA-funded Libearty Bear Sanctuary. She's called Eva and she spent 32 years caged in a zoo. She's now in a beautiful and safe haven for bears…….
http://www.wspa.org.uk/helping/raisemoney/overseaschallenges.aspx