At Luv Dogz, we have a product called Platinum Essentials Calm Care to help your pets through their fear. Many pets can often suffer bouts of fear which is a normal reaction to survival. But the ongoing fear experienced by many dogs and cats in urban areas can be out of proportion to the actual danger. This is when we need to help them through their trauma.
Platinum Essentials Calm Care is a food supplement designed to aid in the management of nervous dogs. It combines an unparalleled range of ingredients to promote calm and reduce anxiety in times of stress. It can be used when your pet is most likely to experience instances of stress such as when travelling, kennel stays, vet visits, grooming, separation anxiety, show events, mild anxiety disorders as well as the terror of firework explosions.
L Tryptophan and its metabolite 5HTP have shown to increase levels of serotonin with one study showing that animals were given a tryptophan free diet resulted in aggressive tendencies. Chamellia Sinensis is an excellent source of L-Theanine which has been used for many years to promote mental and physical relaxation and decrease stress and anxiety. The balance of Calcium and Magnesium are essential in maintaining muscle function and nerve conduction.  Imbalances of these can lead to irritability and a predisposition to stress.
Our capsules come in a two-piece gelatin capsule which can be given whole or sprinkled on your dog or cat's food.
Promotion offer of 20% discount if you buy 2 or more Platinum Essential Calm Care pots.
We also stock the whole range of Pet Remedy products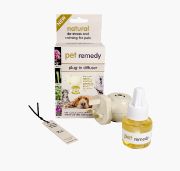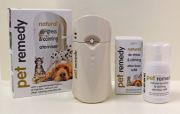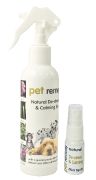 The special Pet Remedy blend of essential oils works by promoting the natural calming neurotransmitter called GABA (Gamma Amino Butyric Acid) to calm the nerves…..so it works via the GABA pathway. All-natural ingredients.