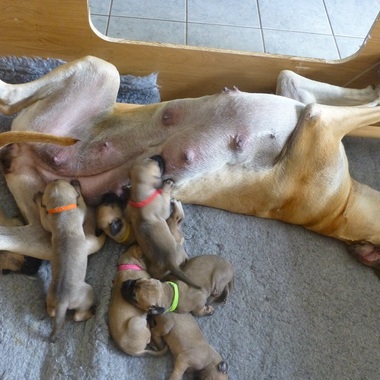 Hey Barking Heads our Great Dane puppies are 3 weeks and ready for weaning!!!
So what is so good about Barking Heads "little big foot" puppy food? Well the ingredients make a tasty recipe. They contain a humungous amount of chicken, salmon and trout (55%). There is a balanced calcium and phosphorus level for strong bones. There is an optimised protein and fat level for healthy balanced growth and DHA to support learning and brain development. Prebiotics are added to help aid digestion as well as 'joint and hip care' to help them grow into gentle giants........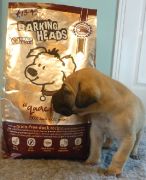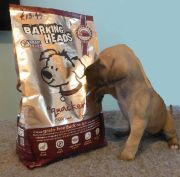 "Hi, I am a three week old Great Dane Puppy. I am already more than half the height of this 2kg bag of "quackers"! What do you mean I can't eat it? Sniffing it I can smell it must be very nice.....what's duck? Something that says "Quack Quack!" Jeez I get it now....."quackers"! "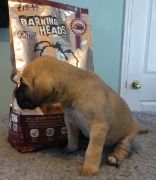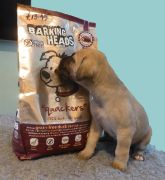 "Is anybody looking? Are we alone? Let me give you a big kiss....Mwahhh!!!"
"It won't be long before me and my two brothers and four sisters will be eating Barking Heads "little big foot" puppy food and we are going to grow and grow and grow......... JUST YOU WAIT AND SEE!!!!"