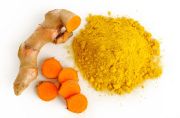 The healing property in Turmeric is called "curcumin" and is a good pain reliever.  Some people who have dogs suffering from painful ailments put Turmeric in their dog's food.
Turmeric is known to have potent natural anti-inflammatory properties. Research has found that it is helpful in reducing the symptoms of osteoarthritis.
Clinical studies are said to show that the curcumin in Turmeric is a powerful antioxidant. Antioxidants neutralise free radicals which cause the painful inflammation, swelling and damage to joints affected by osteoarthritis.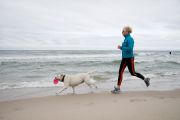 In fact Turmeric has many other healing properties and assists in aiding and helping the following:
– natural antiseptic and antibacterial agent
– helps in the relief of allergies
– aids digestive orders
– may help in the fight against cancer
– good in supporting and improving the liver function
– acts as a binding agent for treating diarrhea
– may help in weight management
– can help in lowering cholesterol
– and many other claims
But we are concerned with pain relief, anti-inflammatory and antioxidant properties in our joint care that can be so helpful with degenerative joint disease or osteoarthritis in dogs.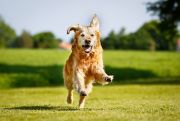 We think we chose wisely when we added Turmeric to our K9 Activ Plus.  Try it because we are sure your dog will agree!
If you are interested in trying any of our Joint Care products please contact us and we can arrange A THREE MONTH TRIAL AT A REDUCED PRICE FOR YOUR DOG. Email us info@luvdogz.co.uk
Trade Enquiries welcome.