"Life is as dear to a mute creature as it is to man. Just as one wants happiness and fears pain, just as one wants to live and not die, so do other creatures."

– His Holiness The Dalai Lama
Who are we to say which animal should live or die? Mihaela Maria is a young woman with compassion for the dogs and cats on the streets of her village in Constanta, Romania. She lives in an upstairs flat with her extended family. Her home has 11 strays but there is no more room. In the basement, she has more strays including kittens and puppies. It is not ideal but they cannot fend for themselves and at least they are safe and fed.
But people began to dump dogs and cats outside her home because word got around that she rescues them. Often she found puppies and kittens dumped in bins or by the side of busy main roads in boxes. Then there are the homeless dogs and cats that congregate on the street for her because they know she will feed them. It's never-ending. The little money she has is spent on food for the dogs and cats. But she doesn't always have enough money to feed them every day. If she had more money she would buy worming tablets and mange treatment.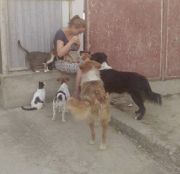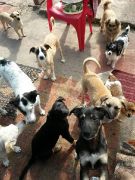 Then she has to live with the pain and horror of these poor animals that have been first dumped by heartless people and then given poison by her neighbours. To see them lying dead in the street with foam around their mouths or half dead having been deliberately run over by cars is heartbreaking. No money for vet fees and no car to take them to a vet to put them out of their misery.
"Every day I have to fight with many stupid people that hate me and my babies but this will not stop me to help my babies.  Caring for animals isn't what I do…..IT'S WHO I AM!"   Mihaela Maria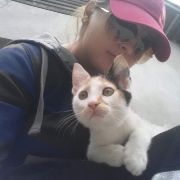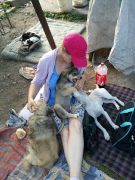 About 18 months ago she went on Facebook and appealed for help for her "precious unwanted souls". A group of people in the UK got together and started to raise funds for her through small online auctions and appeals for donations. Mihaela didn't just sit around waiting for the funds to come in. She found a poor man who had a big yard who was willing to let her keep her younger strays, kittens and puppies there. In return she has to pay him 100 euros each month. That's quite a lot of money when the average wage in Romania is probably still about 200 euros a month or less outside of the cities and big towns.
Miheala Marie is now receiving aid in terms of food, vet fees, etc. She is a courageous young woman because on top of all her hard work caring for the many dogs and cat her neighbours still hate her! In the winter she builds basic dens for the strays to shelter them at night. Her neighbours pull them down. Her neighbours pee in the water bowls she puts out for the dogs and cats. When the dogcatchers are about in her area she tries to take all the dogs into her building. She has been run over by a dog catcher for trying to protect the strays. So when she asked for help she inspired many people in the UK.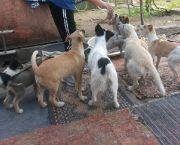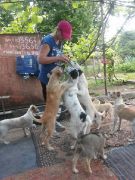 We want to see all the effort and compassion she has shown towards these defenceless creatures grow into a refuge where they can be cared for and ultimately found homes. We want to see foundations laid for what we hope will thrive and become a reputable charitable organisation. That's why friends in the UK who support Mihaela Maria are raising funds to help her buy a piece of land to build her dream. This dream is what keeps Mihaela Maria going. This dream will ultimately become a haven for these animals and a source for educating companion animal welfare. It will be a centre for neutering dogs and cats which will go a very long way to helping resolve the plight of dogs and cats on the streets of Romania…….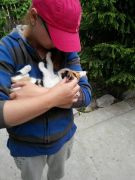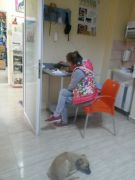 PLEASE CONSIDER A DONATION: To donate by Paypal
Facebook Fundraising – auctionformaria@hotmail.com
Land Fund for Shelter – mihaelamaria12323@yahoo.com
Mihaela Marie's own paypal for donations is mihaela_marya28@yahoo.ro