WSPA is offering the Romanian Bear Adventure 2014 to people who want an experience of a lifetime. It's a fantastic way to raise money for WSPA and at the same time taking part on this challenging 7 day trek through the Carpathian Mountains. I can vouch for the stunning scenery and breath taking views because I have been there and seen the bears in the wild!
The charity helps bears from all over the world and rescues them from cruel and callous captivity. In 2005 they helped to create the Libearty Bear Sanctuary near Zarnesti at the foot of the Carpathian Mountains. Today it is home to around 77 bears, some who had been kept in small run down enclosures in poorly equipped zoos for many years. When Romania joined the EU in 2007 these zoos were forced to close because the standards were so dire. Other rescued captive bears were kept in tiny rusty cages outside restaurants, tourist spots and petrol stations. They were given inadequate diets and no cover from the hot sun in the summer or the snow and rain in the winter. It's hard to believe they actually survived living like this for years…..
At the end of the trek you will visit the Liberty Bear Sanctuary which is WSPA funded. When I was there I called it 'Bear Heaven'. It was a joy to see the bears having the freedom to roam over acres of their native habitat. My favourite photo was of a bear sitting in a pool looking up to the sky.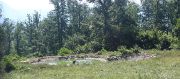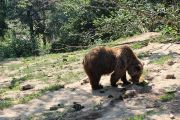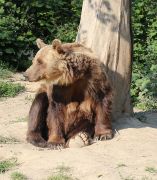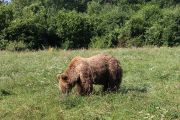 Go on! Find out more by clicking on the WSPA link below:
http://www.wspa.org.uk/helping/raisemoney/overseaschallenges.aspx