Our Great Dane puppies, all 7 of them, arrived safely on 26 June 2014. When they were 3 weeks old we weaned them on to Barking Heads "little bigfoot" puppy food. At that age, their teeth are just trying to come through so the dry kibble is soaked in boiled water and then put into a blender to make a 'mush'. If you put the 'mush' down on the floor in a shallow dish you can expect all 7 puppies to dive in with their feet and slide around in their dinner. Very messy and you can spend ages washing the food off the puppies after every meal. So we put their food in a 'weaner' and meal times were very civilised for a few days……then they started to dive in putting their back feet into the bowls as they hurled themselves over the middle section to eat from a bowl on the other side…….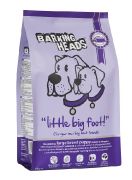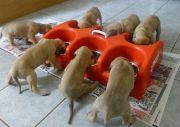 At 4 weeks we made a video of the puppies. What a lot of fun that was…..for the puppies! It's incredible that at only 4 weeks old they were into everything. Boisterous and noisy! Naughty and funny! We couldn't ask for a more quality bunch of healthy and lively puppies!!! Watch the video……
https://www.youtube.com/watch?v=ZSfScuwSd04
At 5 weeks our puppies were playing in the paddock. Yes outside frolicking about and playing with toys and exploring. Always interested in what was going on around them. Loving the smells and the texture of the grass. Generally growing stronger day by day.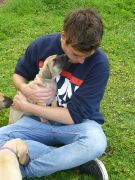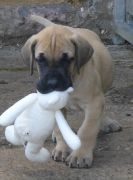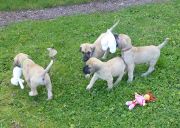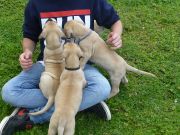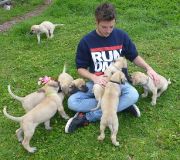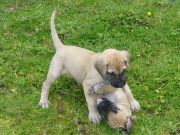 At 6 weeks puppies were almost changing shape and growing every day. This is why it is so important for large breed puppies to be fed the correct diet. In a way you want their growth and development to slow down so they don't have problems as they mature into older puppies. They still need 4 meals a day to support their fast growth. That is why it is so important to give them a quality puppy diet at this age. We think Barking Heads "little bigfoot" puppy food got the balance spot on!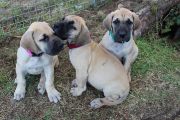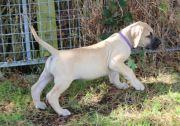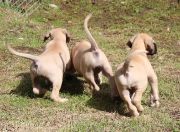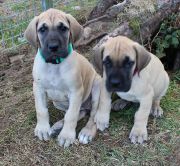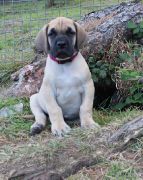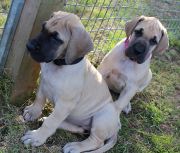 At 7 weeks they were so full of energy and mischief they were hanging out with the adult Great Danes and Yodi. Quite incredible to see them running after the adult dogs and trying to keep up with them. They were drinking out of horse buckets and venturing much further away…..looking through the fencing into other fields. We had a job rounding them up to bring them in. Would like to mention that puppies will have bursts of energy for free play but when they are tired they will flop and go to sleep. So there is no danger that they will do too much and get too tired. But it was commented on that these puppies certainly seemed to have a lot of stamina at such a young age!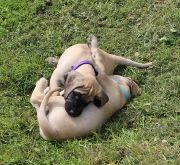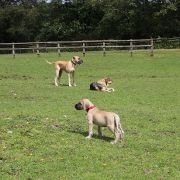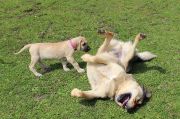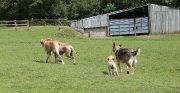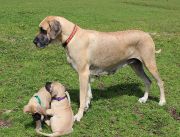 At 8 weeks 5 of the puppies went to their new homes and we kept a dog and a bitch puppy. Our two puppies have come on in leaps and bounds in every way. Full of confidence, bouncy and fun, healthy appetites and fully vaccinated to go out there and take on the world!! What is it they say? Aah yes, "the proof is in the pudding" or more correctly as per the original saying "the proof of the pudding is in the eating"! Thank you Barking Heads!!!!