Yodi came into the Shelter with sarcoptic mange, sometimes called "canine scabies". This painful skin disease is caused by parasitic mites. It's often associated with neglect, poor condition and low immune system and is highly contagious. The AMP team member was able to take Yodi to the AMP shelter where Yodi was treated for the mange.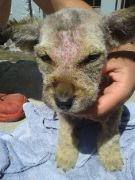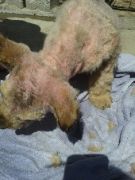 In July 2013, Helen Seddon visited the AMP Shelter with Hilary Baker of Preveli Photography and Hilary had photographed Yodi in a kennel along with his kennel mate Yol. Yodi would have been about 5 months at this time. From the photo, we could see that the AMP team had successfully treated his sarcoptic mange. Both dogs were brought to the UK in September 2013 by the UK Charity Love Underdogs, a partner of AMP in Brasov.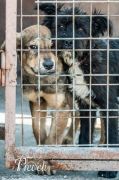 Helen attended the Love Underdogs Open Day in mid-September with one of her Great Danes. Various dogs were looking for adoption and it was suggested that Yodi was a laid back puppy and would be able to cope with large dogs like the Great Danes. So he came home to the border of Somerset and Devon. He was very quiet on his journey to his new home but the next day he was such a happy little chap running in the field with the Danes!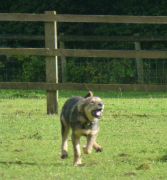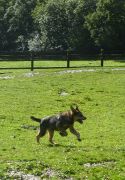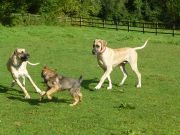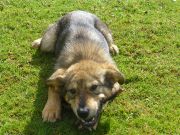 Yodi has matured and grown into a lovely dog. He represents so much that is good about dogs from his temperament to his antics. He is very affectionate and loves attention but can equally hang out with his doggy mates and be happy romping about the field with them. He's an absolute sweetheart and so lucky to have been rescued in Romania and then brought to the UK where we think he will have a wonderful and happy life. If only all the Street Dogs could be so lucky and helped by two such fantastic charities, AMP www.ampbears.ro and Love Underdogs www.loveunderdogs.org.