The walk starts from Spaxton on the edge of the Quantock Hills. There are two alternative routes and they both take in beautiful scenery across farmland and woodland. The 10-mile route includes some steep hills. The 5.5-mile route is undulating and mostly flat. The 10-mile walk starts at 10.30am and the 5.5-mile walk will start at 10.45am.
For more information, registration and sponsorship forms or online details then please contact:
bradcottrell@aol.com or phone 0770363 92
Animals Asia Foundation Charity Reg No:  1086903
www.animalsasia.org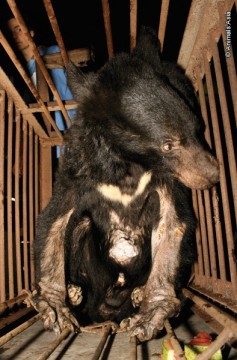 These beautiful Asiatic Black Bears are farmed across China and imprisoned for up to thirty years in tiny metal cages no bigger than their own bodies. They are 'milked' daily for their bile through rusting metal catheters implanted deep into their gallbladders, or via permanently open, infected holes in their abdomens, through which bile seeps. Both methods cause peritonitis, septicaemia and very painful death. These intelligent animals, bored, frustrated and in dreadful pain suffer totally unnecessary physical and mental torture. Their bile is used in Chinese Medicine but can be easily replaced with herbal and synthetic alternatives.
Animals Asia (www.animalsasia.org) is rescuing these bears and is working to bring an end to bear farming in China but they need our help to raise money to achieve this.