Grain-Free Salmon, Trout, Sweet Potato and Asparagus (50% Salmon & Trout)
Grain-Free Pork, Sweet Potato and Apple (50% Pork)
Grain-Free Lamb, Sweet Potato and Mint (50% Lamb)
Grain-Free Turkey, Sweet Potato and Cranberry (50% Turkey)
Absolutely delicious protein sources which your dog will love and most of it freshly prepared meat or fish.
Why Sweet Potato? It's nutritionally different from the common potato being more fibrous and high in the B Vitamins. It is also rich in Vitamin A and C. For dogs, and indeed humans, sweet potato is considered a high-quality carbohydrate source. We've been feeding the above receipes to our adult Great Danes since June 2014 as we were one of the first to try them. We had a bitch in whelp who continued to be fed on it whilst she was feeding the pups and is still being fed on it to date. We also have been feeding it to a large 4-year-old male Great Dane, 8-year-old and 10.5 years old Great Dane bitches. They all loved the dry food and never left anything and what has been coming out the other end has been fine.  No waste whatsoever and you feed less than you do on other dry foods. So it's actually very good value.
If you think we are going down the road of spoiling our dogs then all we can say is what's new about spoiling our dogs? When this announcement went out earlier this year people were looking for the phone number to book a table for their dogs with menu prices at £59 – £79!!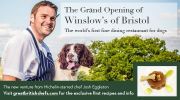 Backed by Michelin starred Chef Josh Eggleton, the restaurant was offering:
"Crispy Pig's Ears with Truffle Tartare Sauce"
"Textures of Tripe with Onion Puree"
"Pork Jus Jelly with Apple & Shortbread Dog Biscuits"
The canny dog owners will have smelt a rat when they saw onions on the menu!! Yes, it was an April's Fool on 01 April 2014! But it demonstrated that dog owners were interested in 'Fine Dining' for their dogs and that they were willing to pay…….
Now in the USA, it's been going on for years. Dog owners can take their dogs for lunch to certain restaurants al fresco where they are usually seated in underutilised restaurant areas such as patios. The dogs usually have a separate menu for their owners to choose from. Depending on the restaurant this could be lamb stir fry, meatloaf, scrambled eggs with bacon bits, freshly baked dog biscuits, raw bone sprinkled with dill or something as simple as a "hungry dawg" steak. Restaurant owners are not stupid because they know it draws in more customers and those with dogs tend to stay longer and spend more money!
And in Manilla (The Philippines) there has been a recent launch of "Fine dining for pooches at the Gourmet Pet Cafe, Manilla". Bet you never saw that one coming in the Philipines now did you!! Quite amazing as half a million dogs are slaughtered annually in the Philippines for the dog meat trade!  Click on the link below to see the video.

             http://bit.ly/1rvwDoi
But seriously folks……..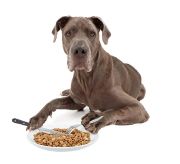 salmon, trout and asparagus and all the other new recipes in a dry food form does have some advantages in the Fine Dining arena. It's good value, your dog doesn't make a mess on the floor, he doesn't need to tuck a napkin into his collar and it doesn't involve lengthy preparation time by the owner!