TENAYA GREAT DANES
I became obsessed with Great Danes back in 2003 when I purchased my first pedigree Great Dane and began showing.  I bought the half sister to my first Great Dane and I then started showing Great Danes in earnest.  Nearly twenty years later I have been the proud owner of Champions across three generations. I have won Best of Breed at Crufts and my Danes (owned and bred) have won 27 CCs between them.
In June 2014 I had a third litter by my Champion Dog Tenaya Comanche War Lord out of my New Zealand import bitch, Lapsewood Star Attraction of Tenaya. They produced 7 healthy puppies who were reared on Barking Heads "little big foot" puppy food. We then had 4 generations of Great Danes living with us at Ringdown House! Sadly I lost my beautiful Daisy aka Ch Toscade Action Replay of Tenaya in April 2015 at the grand old age of 11 years.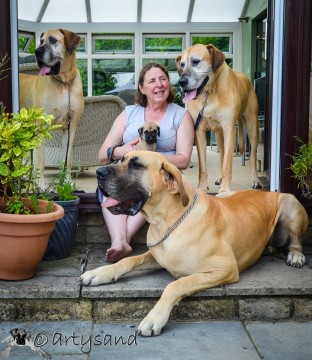 An integral part of rearing and showing this giant breed is what you feed them on.  I dabbled with the raw diet and various quality dry foods and almost always a mixture of the two.  As the number of Great Danes we had at home grew to seven I was always looking to buy quality dog food at a sensible price. The cheaper dog foods just contained poor ingredients. Most of the dog foods with the quality ingredients were too expensive to feed to the number of great Danes I had.  I just wanted a Super Premium dry dog food at an affordable price. Buying in quantity was the key and I found a salmon and potato super premium food I could buy by the pallet.  Within a short time friends and acquaintances were asking to buy the same food from me for their dogs.  The salmon and potato was particularly palatable and sensitive on their stomachs. It also gave the dogs a fantastic shine on their coats and kept good weight on them.  My males rarely dropped weight even when a bitch was in season and I have never had a fussy eater! Some people went as far as saying this food helped skin and digestive problems with their dogs too. My dogs are very important to me and are first and foremost my pets.  I think diet has a lot to do with some health and behavioural problems.  Therefore it was important for me to feed natural and wholesome ingredients without derivative cereals or meat. For the show ring you want condition and good coats together with good temperaments and behaviour.  The same applies to a family pet.  We all want a healthy, happy and well adjusted dog.  I believed very strongly that diet was the key.
Luv Dogz Ltd has been developed along the lines of our other company, Office Reality Ltd, giving customers affordable choice on a large variety of products.  The price displayed with the product is the price delivered. No extras to add on when you get to the checkout. We are primarily selling Super Premium, Grain Free and Superfood dry dog food and the range covers Working Dog products of the same quality. Meat Content is generally 45% to 65% from Puppy to Senior, Toy Breeds to Large Breeds. We are also looking at high Premium Dry Cat Food for 2022. There is a large range of Small Breed dry dog food. We are also looking at sending out 2kg bags as a samples at a reasonable price in order to allow your dog to try the food over a number of days or as much as a week or more with small breeds. For 2022 we are looking at new canine products including beds, toys, treats and other items.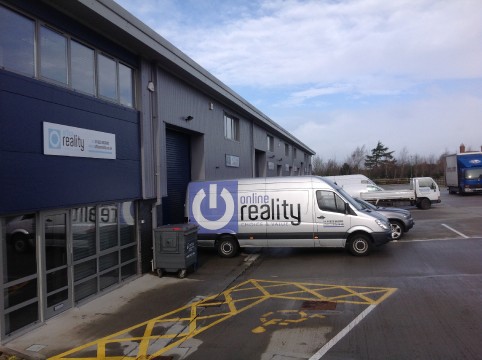 For many years we have been interested in the plight of dogs and other animals around the world.Some charities have made a big difference to the lives of dogs and we have tried to sponsor their efforts.  Luv Dogz Ltd has been donating £1.00 per transaction to one out of four Charities.  You decided which charity you wanted your £1 to go to at the checkout which was included in the price of our products.  Unfortunately we are not able to do that in the future because our costs including delivery have decimated our margins. Prices have to go up like everywhere else but we will always keep costs to a minimum where we can. Therefore when you order you will have a choice to donate as little as £2.00 to one of the charities or not donate at all. We will still help the charities when and where we can. The donation amounts will continue to be shown on the website. We will keep you updated with news from the charities themselves regarding their activities. Luv Dogz Ltd is a family run business situated on the border of Devon and Somerset.  We are just off Junction 26 on the M5 about 8 miles south of Taunton. We welcome local customers who want to collect their dog food at a discounted rate due to no delivery charges.
If you have any related dog food queries, want some advice on what is right for your dog or to get in touch with us for anything else please email us at info@luvdogx.co.uk.
Helen Seddon | Director
Luv Dogz Ltd |  Unit 4A | Westpark 26 | Wellington | Somerset | TA21 9AD